The Moonlighters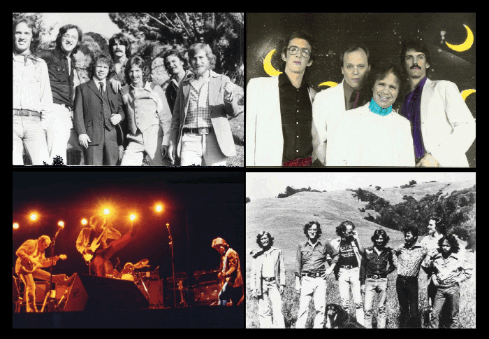 The Moonlighters was a band formed in the mid-1970s that was led by Bill Kirchen and "moonlighted" from Commander Cody and His Lost Planet Airmen... later to become his backing group. The early "Rhythm & Western" sound of the group came from a seven man outfit that featured a section of tenor sax, pedal steel and fiddle. The group evolved later into a four-man, skinny-tie, rock/pop outfit.

The first Moonlighters gig was backing up Lily Tomlin at the Boarding House in SF. She opened for herself as Wanda V. Wilford, a character based on her role in the Robert Altman flick, "Nashville". The band never met Lily, only Wanda. She never broke character. The Moonlighters early claim to fame was a sit-in by Naomi Judd back in the mid-70s, her first public performance, then a waitress at the band's regular stomping grounds, Rancho Nicasio, in Nicasio, CA. She sat in with her daughter, Wynonna (she was Christina at the time) and sang "San Antonio Rose" and "Working Man Blues." It was the 1st public appearance of the mother-daughter duo that would become the Judds. Over the years other backing jobs for the group were with Dottsy and Norton Buffalo.

The band's first album was self-titled and produced by Jack Richardson and came out on Amherst Records in 1977, early in the group's existence, showcasing their unique "rhythm and western" sound that featured a "horn section" of tenor sax, pedal steel and fiddle. (more...)

Towards the end of the group's run, a second album, "Rush Hour," was released, which featured the four-man combo, was produced by Nick Lowe, and recorded in London, England. By this time, Austin De Lone was in the group, who had known Nick Lowe in the pub-rock days of the early 1970s, when the group Mr. Lowe was in, Brinzley Schwartz, followed Austin's Eggs Over Easy into the Tally Ho pub, birthplace of the famed pub-rock scene that is credited as being the precursor to punk-rock. Austin's Eggs Over Easy is credited with having started that scene.(more...)

A 3rd album, "The Missing Moonlighters - Live / Studio Closet Tapes," a 2-CD set, was released in 2008 on Globe Records, culled from the band's archives under the indulgence of the band's rhythm section, Tim Eschliman and Tony Johnson. These recordings have some of the live-ness and songwriting that's missing from the two previous releases. The live CD from this release includes essential tunes that were staples of the band's live shows but didn't appear on the 2 previously existing releases, like Carl Perkins' "Boppin' the Blues," a few Rockpile numbers and the bands traditional rave-up set-closer, Warren Smith's "Ubangi Stomp." There are also 3 songs from Rohan's Rockpile in Vancouver, the club where the band Rockpile (Nick Lowe & Dave Edmunds) got its name. The studio CD of this set, on the other hand, brings to light a more experimental side of the band, including original material that never saw the light of the stage. (more...)






Moonlighters discography:



"The Moonlighters" (LP), Amherst Records - 1977 - order from Globe Records
Produced For Nimbus Nine Productions by Jack Richardson
Recorded At Quantum Recording Studio, Torrance, California
Bass, Vocals - Don Kennedy; Drums, Piano, Vocals - Tony Johnson; Fiddle - Richard Casanova; Lead Guitar, Vocals - Bill Kirchen; Pedal Steel Guitar, Resonator Guitar - Stephan Fishell; Rhythm Guitar, Vocals - Rick Higginbotham; Tenor Saxophone, Baritone Saxophone - Steve Mackay
Songs: "Midnight in Memphis" "Durango" "Sonora's Death Row" "I'm Broke" "The Music Is Part Of The Man" "Wild Things" "Lady Of Light" "Shanty Town Goodbye" "Home In San Antone" "Cajun Queen"

"Midnight In Memphis" 45 rpm single, Amherst Records - 1977 - order from Globe Records
mono b/w stereo, from "The Moonlighters" (LP), Amherst Records - 1977




"Rush Hour" By The Moonlighters Demon Records 1983, Globe Records 2006 - order from Globe Records (LP), iTunes, Amazon.com

Produced By Nick Lowe, Recorded at Ampro, London, England
Originally created by members of Commander Cody as a side-project, The Moonlighters started out in the mid-1970s in Marin and Sonoma Counties, California as a 7-piece "Rhythm & Western" group focusing on rockabilly, western swing, cajun, and rhythm & blues. Early members included Norton Buffalo (harmonica with Steve Miller) and Bobby Black (pedal steel with Commander Cody). A short while after the release of their first album, a self-titled release on Amherst Records, the band ended up being hired as Commander Cody's back-up group, a relationship which still lingers to some degree, and which saw the group touring all over the U.S., Canada, England, and Europe.The group evolved over the years and ended up as a tight four-piece rock/pop outfit featuring the songwriting of Tony Johnson (from the Rockabilly Rhythm Boys, Sandy & The Accents, Junior Walker & The All Stars, writer of "Midnight & Memphis"),Tim Eschliman (from Rhythmtown-Jive, Jesse Colin Young and Etta James), and Austin deLone (founding mem- ber of pub-rock innovators -precursor to Punk Rock, Eggs Over Easy). Through Austin deLone's connection with Nick Lowe from the Brinsley Schwartz,Tally Ho (London) pub days, these originals caught the ear of Mr. Lowe and a production deal was offered, which resulted in the "Rush Hour" project, originally released in 1983 on England's Demon Records.The Moonlighters at the time of this release were: Tony Johnson: Drums, Vocals, Percussion, Piano; Bill Kirchen: Guitar, Vocals; Austin DeLone: Keyboards, Guitar, Vocals; Tim Eschliman: Bass, Vocals.
Songs: "This Livin' Ain't Lovin'", "Wait In Line", "I'm Gonna Put A Bar In The Back Of My Car And Drive Myself To Drink", "Coming Up On Happiness", "All Tore Up", "Soul Cruisin", "World To Lose", "Big Noise In The Neighborhood", "Here She Comes", "I Feel Like A Motor", "Workman On The Nighttime Shift", "Seven Nights To Rock"




"The Missing Moonlighters - Live / Studio Closet Tapes," Globe Records 2008 - order from Globe Records, iTunes, Amazon.com

These recordings have some of the live-ness and songwriting that's missing from the two previous releases, featuring Bill Kirchen, Tony Johnson, Richard Casanova (George Strait), Steve Mackay (Iggy Pop), Steve Fishell (Emmy Lou Harris), Don Kennedy, Rick Higginbotham, Tim Eschliman (Rhythmtown-Jive), Austin de Lone (Eggs Over Easy) with special guests Mark Karan (Ratdog) and James Henry. These tracks were culled from the band's archives under the indulgence of the band's rhythm section, Tim Eschliman and Tony Johnson. The live CD from this release includes essential tunes that were staples of the band's live shows but didn't appear on the 2 previously existing releases, like Carl Perkins' "Boppin' the Blues," a few Rockpile numbers and the bands traditional rave-up set-closer, Warren Smith's "Ubangi Stomp." There are also 3 songs from Rohan's Rockpile in Vancouver, B.C., Canada, presenting the Cajun fiddling of "Mississippi Sawyer," "Big Mamou" which featured the 3-man section of fiddle, tenor sax & pedal steel and the sassy "Sittin' On Top Of The World," which adds to that section Bill Kirchen's wild trombone. This is the club where the band Rockpile (Nick Lowe & Dave Edmunds) got its name. Live recordings are also from Keystone Palo Alto, The Saddlerack (KFAT Fat-Fry), and Keystone Berkeley. The studio CD, on the other hand, brings to light a more experimental side of the band. Three of the tracks were recorded live to 4-track in an afternoon as a pre-production session at Different Fur Studios in San Francisco and when heard by Austin's friend Nick Lowe, led to the arrangements for the recording of the Moonlighter's "Rush Hour" album, which Nick produced in London. "Midnight in Memphis" on this collection, recorded live in that session, is the only commercially available Moonlighters recording of the song that was the band's first single. This was a staple of the band's repertoire and has been covered by many artists, most notably, Bette Midler in the movie and double platinum soundtrack, "The Rose." Many of the other studio tracks are song demos of originals by drummer Tony Johnson or bassist Tim Eschliman, and several of those were recorded at Tim and Austin de Lone's at-the-time home studio, the earliest iteration of Globe Studios. Although not all of these recordings were Moonlighter projects, per se, but they happened to have been recorded by the band members and in some cases led to additions to the band's set lists. Studio recordings are also from Sonoma Recorders and Prairie Sun. Mastered by Fred Catero, Tim Eschliman and Tony Johnson.
Songs: "Mississippi Sawyer" "Boppin' The Blues" "Hamburger Man" "Big Mamou" "Flat Tiyo" "Let It Rock" "When I Write The Book" "High Blood Pressure" "They Called It Rock" "Sittin' On Top Of The World" "Oh,What A Thrill" "Ubangi Stomp" "Have You Heard About The Man" "Dream Lover" "Seven Nights To Rock" "I Can't Stop Eating" "Midnight In Memphis" "All Tore Up" "Worthy Of The Second Step" "Outer Limits" "Lunch Time" "The Day I Throw My Phone Away" "True Love" "Big Noise In The Neighborhood" "The Angels Listened In"

More listening 0ptions for
Rush Hour
and
Missing Moonlighters
:
https://orcd.co/4jed3rx
- top of page -
For more about the Moonlighters, email us at

or see
GlobeRecords.com
or check the
Facebook Page